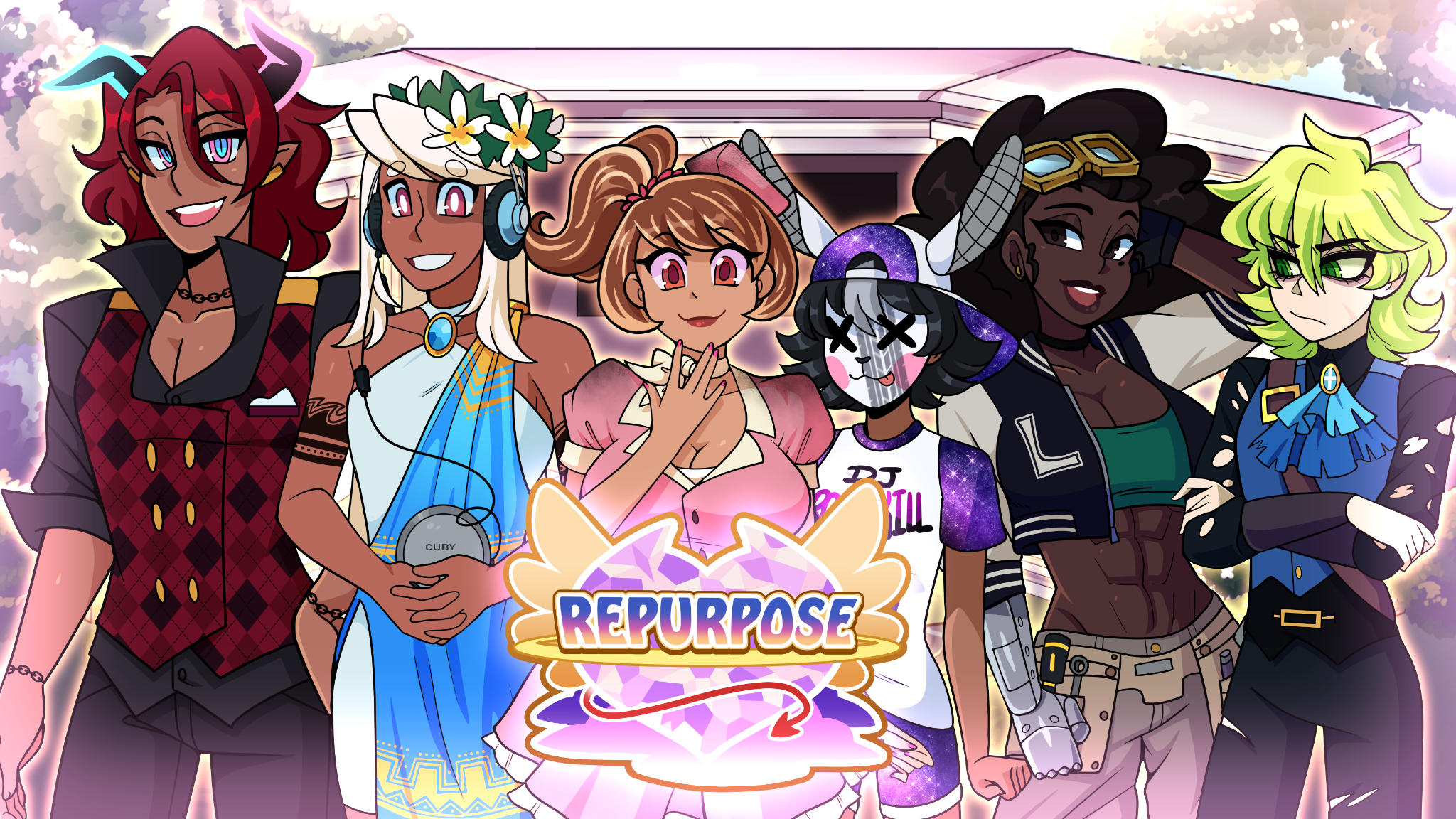 Repurpose (Demo)
THE BROWSER VERSION DOES NOT WORK IN CHROME
Use another browser to play in browser like firefox, opera or even edge.
Release date: December 24th, 2022
---
Warning:
The following game contains
Strong language, sexual themes, references to death, mentions of police violence, discussions of gender and sexual identity, mild horror elements, mild violence, and is intended for mature audiences only.
Viewer discretion is advised!
---
You and several others have passed away.

Rather than being sent to Heaven or Hell, the powers that may be are unable to decide where you should go. You wake up in the Garden of Eden whose new home has been made in Limbo. You have three options: either take the trials to earn your place in Heaven, live it up in Hell, or remain lost in Limbo for eternity.
It's a lot to take in fresh off your deathbed... but maybe you find can find your peace along with your new friends in the afterlife.
---


Repurpose is an LGBT+ positive dating sim about death, love, and finding your purpose. We offer the ability to play as the gender that suits you best be it cis, trans, or anything else on this beautiful mess of a spectrum! The cast of REP are all in some capacity queer from their sexuality and/or gender!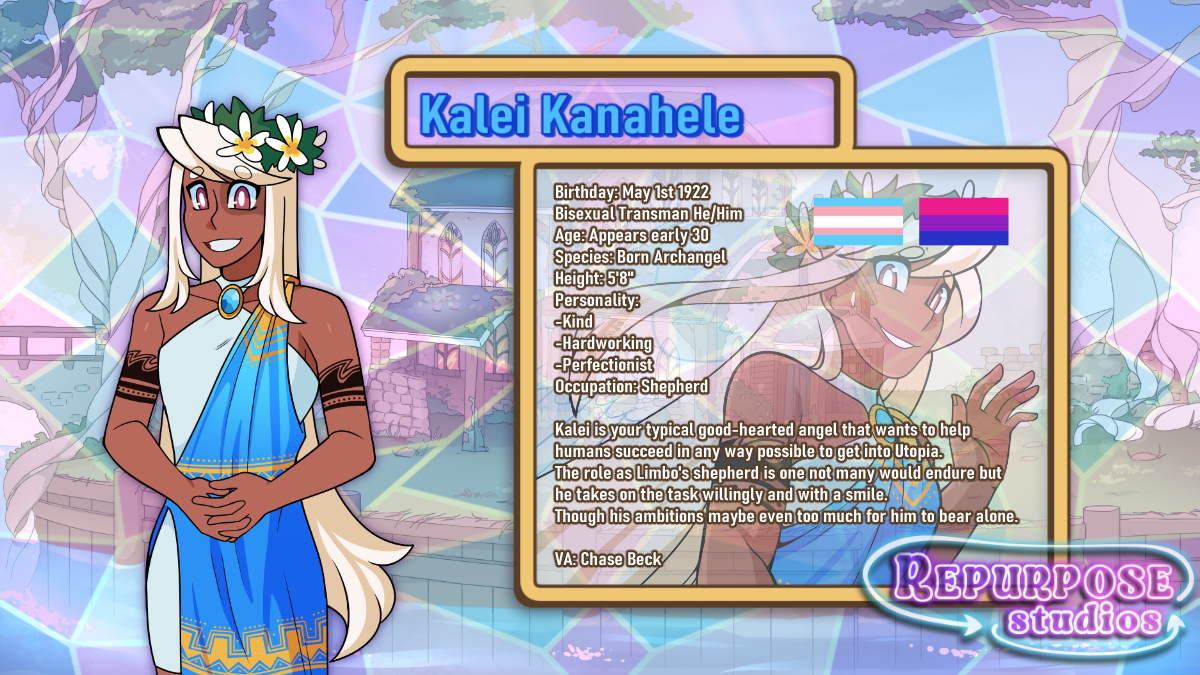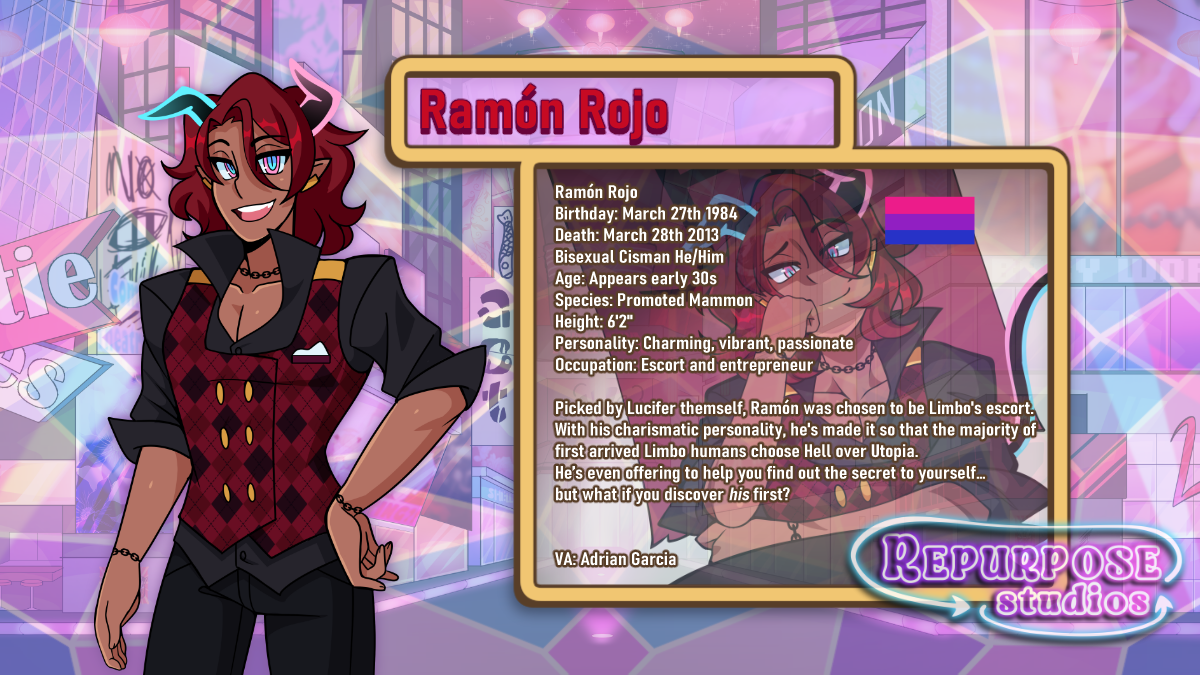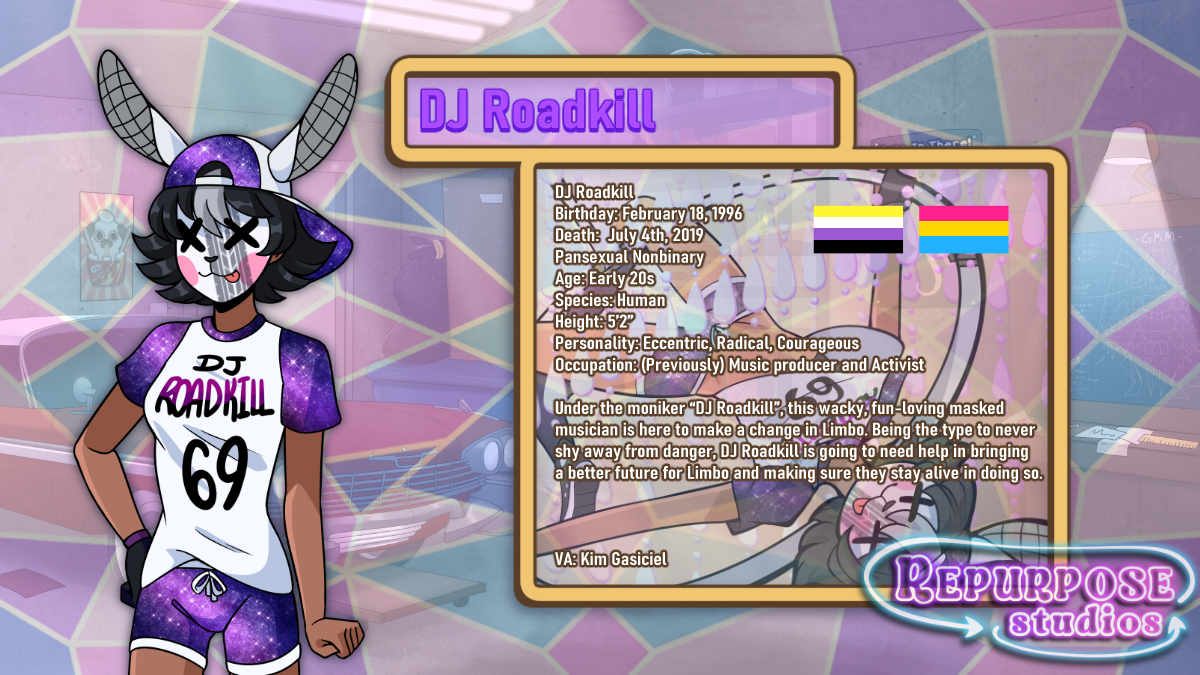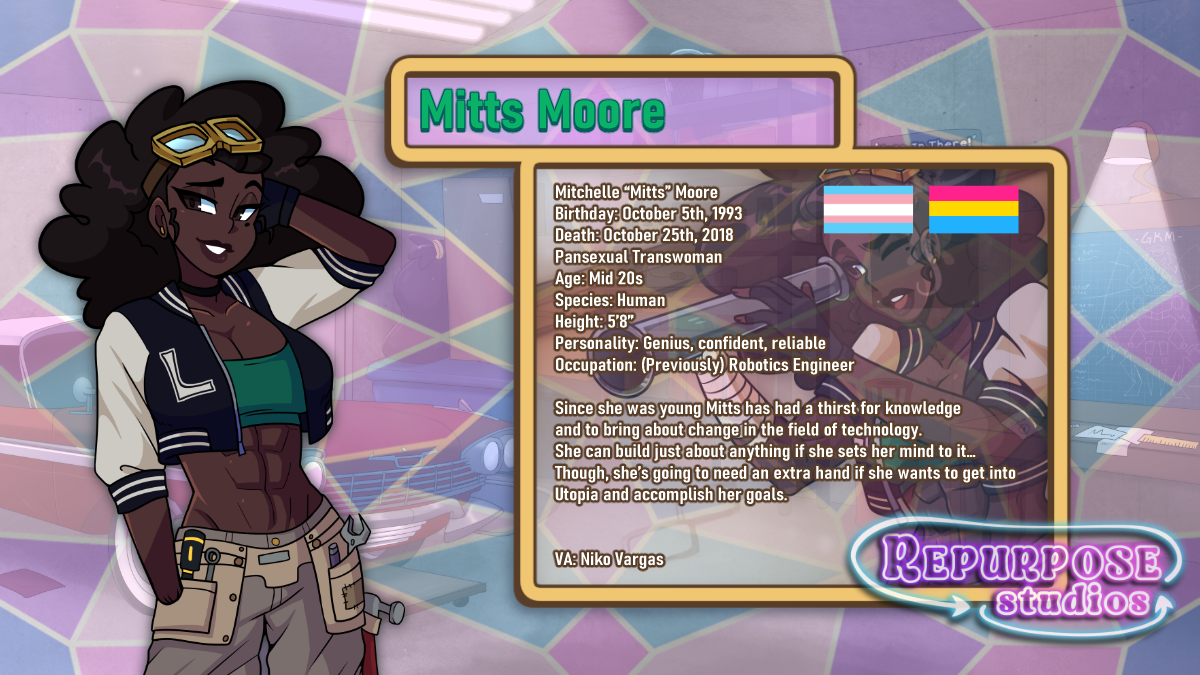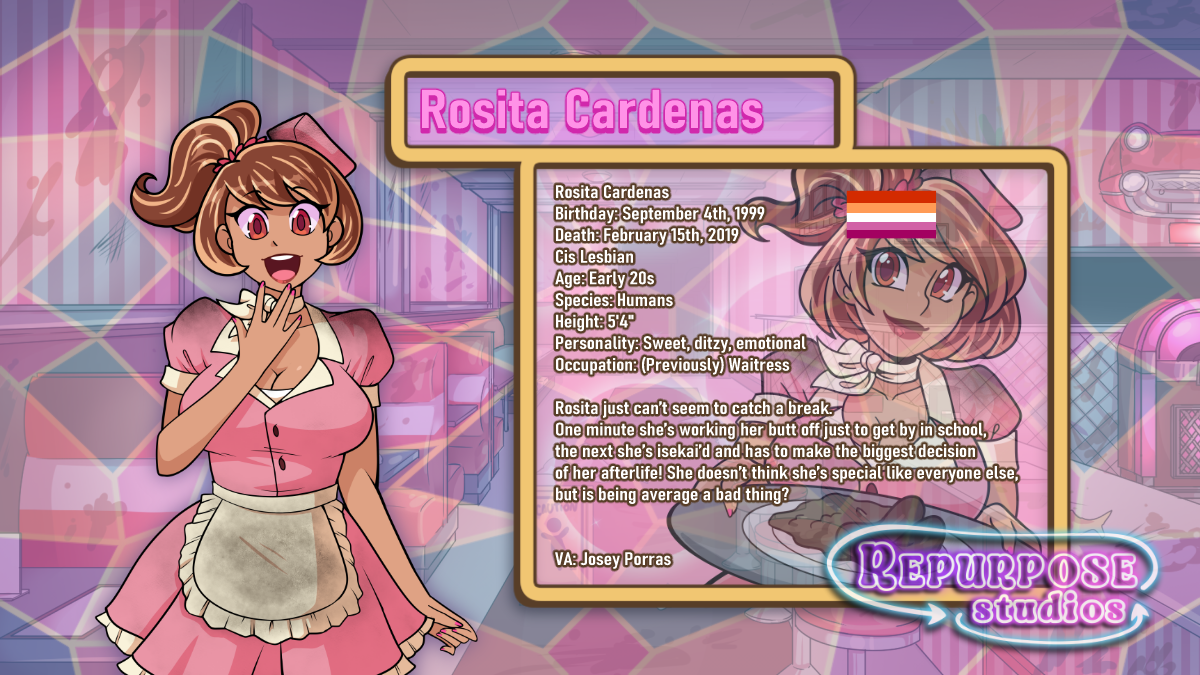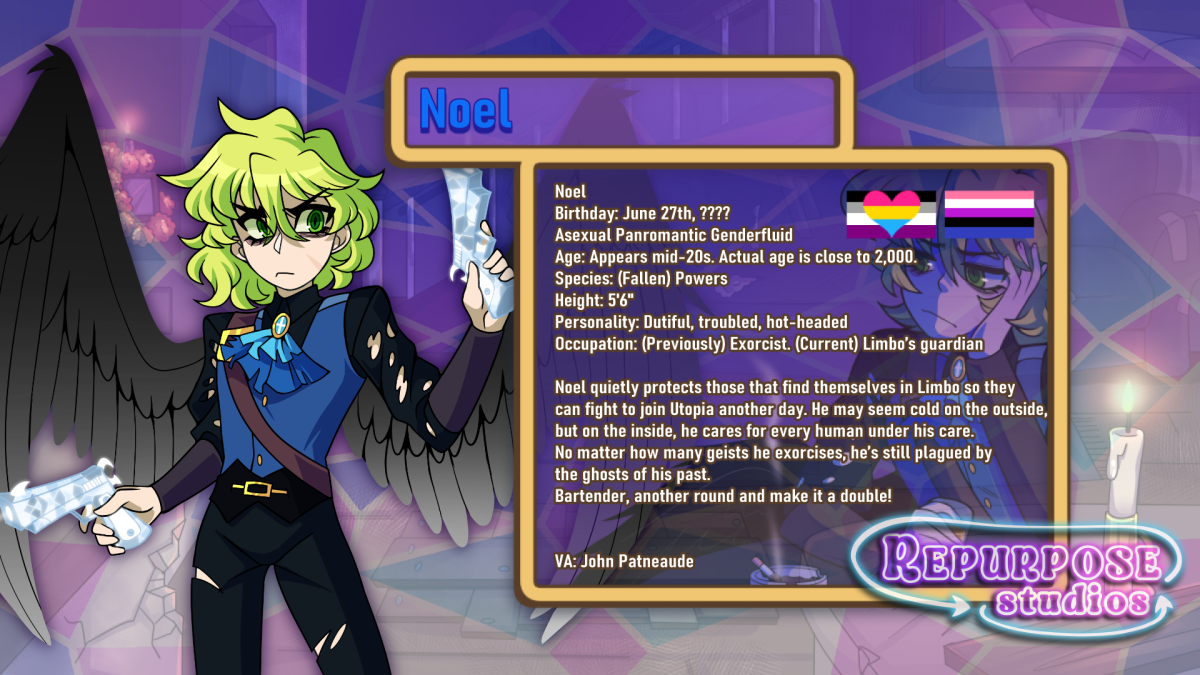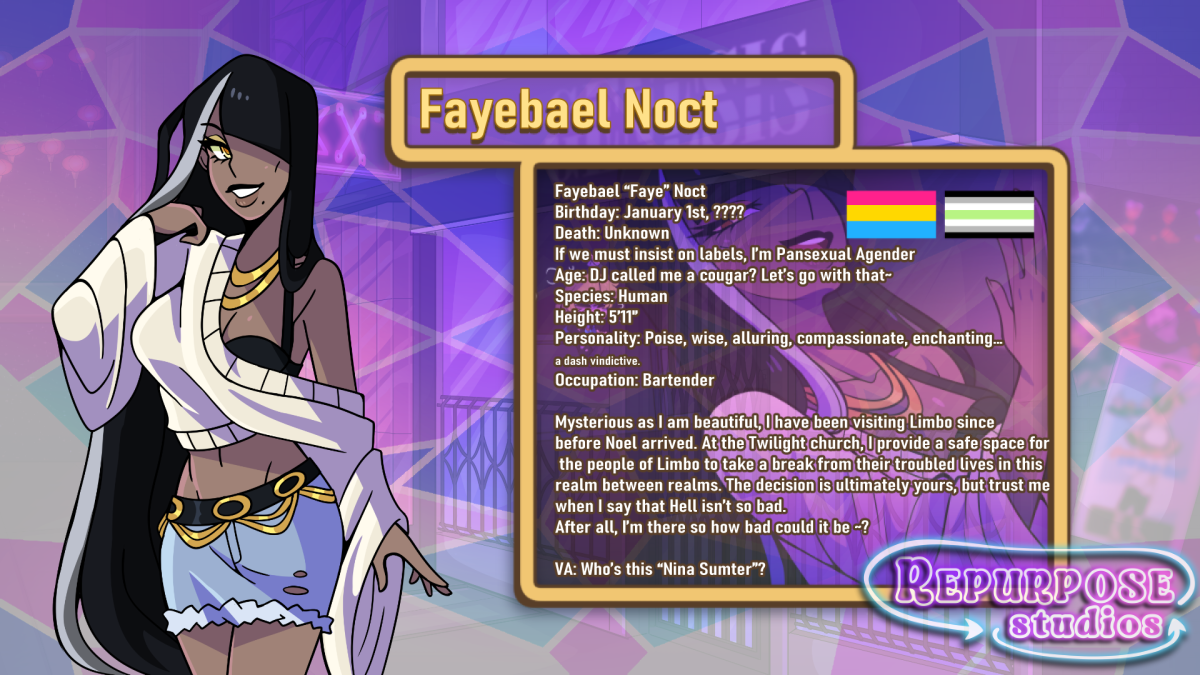 ---
Game Director: ResidentRabbit
Head Writers: Sam Rose, ResidentRabbit
Programming: ResidentRabbit
Art: ResidentRabbit
Art Assistants: SweetTracky, Villanalirreal, HappyPaca
Backgrounds: TJ Lee, Sara Krebs, ResidentRabbit
Music: Tenshihanaka

Voice Direction: Chase Beck and Adrian Garcia
Voices:
Kalei: Chase Beck
Ramon: Adrian Garcia
DJ Roadkill: Kim Gasiciel
Mitts: Niko Vargas
Rosita: Josey Porras
Noel: John Patneaude
Fayebael: Nina Sumter
Hordes: Adrian Garcia
A Repurpose Studios Production
Questions and Answers:
Q: Can I play this game for my youtube or twitch channel?
A: Of course! Just please provide a link to the itchio page for others to check out the game.
Q: What's this game's rating?
A: It's rated M for strong language, mature themes, and adult situations. There is no explicit nudity or graphic depictions of violence however so it is streamer friendly.
Q: I want to replay the game but as a different character/gender. How do I do this?
A: It's only recommended to do this after completing the demo/ seeing all the good endings of the main 6 characters. But regardless of the warning, you can do a true restart of the game by going into your system's appdata, going in the Renpy folder, and deleting the Repurpose folder. Keep in mind this relock CGs and music in the extras menu and isn't take into account for the meta of the game.
Q: (Demo only) How do I unlock the last CG(s) in the gallery?
A: Do NOT give Hordes the keys, when at the bar encourage the fight, and join fight. The image is intentionally "black" but perhaps if the brightness was turned up a bit...
Download
Click download now to get access to the following files:
Repurpose-1.011-mac.zip
210 MB
Repurpose-1.011-pc.zip
245 MB